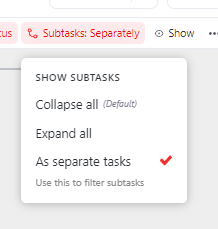 Have the option to collapse all subtask, expand them, and be shown as separate task just like in Clickup.
This is the most important piece I'm looking forward in another PM tool.
Some tasks are on different stage of process hence, having the option to movew them to a separate Status group without affecting the main task's Status would be very helpful in managing tasks.